Hills Waste Solutions invest £750,000 in vehicle fleet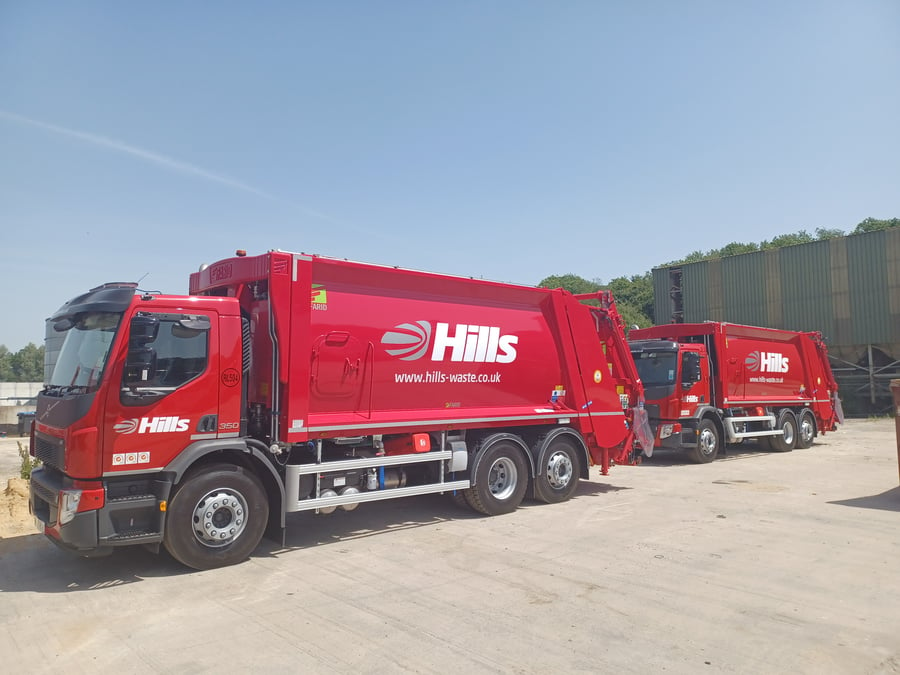 Hills Waste Solutions has recently added four new vehicles to the fleet as part of a continued programme of investment combined with our commitment to reducing carbon emissions and minimising our environmental impact.
More flexibility and capability
The new vehicles provide more flexibility for the fleet, catering for a wider range of customer situations. With the capacity to lift larger containers with these vehicles our transport teams can plan more efficient routes for business waste collections. Up until now, business customers in certain local areas have been serviced by different vehicles due to differences in bin sizes. The new investment means a wider range of bins can be lifted by the same vehicle and allows the new trucks to visit more sites which are in closer proximity to each other. This means less miles are travelled when collecting business waste.
Efficiency and reduced carbon emissions
The introduction of the latest Euro 6 compliant vehicles also has a positive impact for our fleet by reducing harmful emissions. As well as the obvious benefits in fuel reduction by travelling fewer miles to make waste collections, the vehicles are also more fuel efficient than the ones they replace, making a further contribution to reducing emissions.
Improved safety features
Safety for our drivers and the general public is critical to running our business and this extends to the vehicles we operate. The new vehicles come with custom-fitted features, designed to our specification.

When lifting bins into the truck the driver must leave the cab area and go to the back of the vehicle to operate the lifting gear. Power from the truck is required to do this and, in older models, keys had to be left in the ignition while the driver attended to the rear of the truck. This potentially created a risk of theft of the vehicle itself, or a dangerous situation if someone moved the truck while it was being operated. However, the new trucks are equipped with an immobiliser which allows the driver to remove the keys from the ignition, creating a safer environment for the operator, while still having power to the lifting mechanism. The truck cannot roll away when using this feature as the hand brake must be applied before the keys can safely be removed.
A 360-degree view with on board cameras
Another important feature for our trucks is the 360 degree view our drivers have in the cab. By installing a number of cameras at various points around the truck drivers can view and record what happens in close proximity to the truck as the driver manoeuvres in difficult and tight locations to collect business waste. The cameras allow the driver to see and avoid obstacles helping to avoid damage to business property and upsetting customers.

Neil Pollard, Divisional Director for Commercial Collections said, "This is a significant investment by Hills to help us provide the best possible service to our customers, while at the same time providing environmental benefits from vehicle efficiency and better route planning. We are also really pleased with the customisations we've made to improve health and safety."