Reducing waste and promoting recycling in nursery schools
How green is your nursery's waste management? Managing how your nursery disposes of its waste is a huge opportunity. It can help reduce waste, improve the environment, and be a fun learning experience for early-years pupils, their parents, and teachers. It may even be a deciding factor for environmentally savvy parents when choosing a nursery for their child. Here we outline the types of waste nurseries produce and their environmental impact. More importantly, we detail how nurseries can be more sustainable and discover the benefits of reducing waste and recycling for nurseries in the UK.
Amesbury
Andover
Bath
Bristol
Cirencester
Chippenham
Devizes
Faringdon
Frome
Malmesbury
Marlborough
Newbury
Portishead
Salisbury
Shaftesbury
Swindon
Trowbridge
Tidworth
Warminster
Weston-Super-Mare
Yate
Food waste:

meals and snacks are often served to toddlers, which can result in food waste from uneaten food or food packaging.
Paper and cardboard waste: Nursery schools may use lots of paper for artwork, worksheets, and other activities.
Plastic waste: Many nursery products, such as toys, cups, plates, and utensils, are made of plastic and can contribute to plastic waste if not disposed of properly.

Art supplies:

Art materials such as paper, paint, glue, and markers can contribute to waste.
Disposable nappies:

Infants and young children in nurseries may use disposable diapers, contributing to significant waste.
Furniture waste: Old or damaged furniture, such as chairs, tables, and desks, can result in large amounts of waste.
Electronic waste: Nurseries may dispose of batteries used in electronic toys, as well as electronic devices such as child-friendly tablets, computers, and televisions.

Cleaning products:

Cleaning supplies used to maintain the cleanliness of the nursery can also generate waste.
For anyone working with nursery schools, it is essential to be aware of the types of waste produced and their environmental impact. But finding ways to reduce this is more important and can be fun in a learning environment too.
How is nursery school waste impacting the environment?
Around 250,000 tonnes of waste a year is produced by the education sector (source: Local Gov). However, while there is no specific data on nursery schools alone, with over 13,000 early years settings registered in the UK as of 2022 (source: Day Nurseries), they are believed to contribute to a significant proportion of the waste produced in the education sector. Here are some examples of the way nursery school waste can impact the environment:
Landfill space
Nursery school waste, including disposable nappies, food packaging, and art supplies, can occupy much landfill space. In fact, a toddler gets through 4,000 – 6,000 disposable nappies until they are potty trained. Consequently, up to 3 billion nappies are sent to landfill or burnt yearly, a massive 400,000 tons of waste (source: LCNP). As landfill space becomes scarcer, this waste can contribute to environmental problems such as soil contamination and groundwater pollution.
Plastic pollution
Whilst nursery schools will try to avoid single-use plastic – such as utensils, cups, and plates – there are occasions when it's much harder to avoid. For example, approximately 1,215,000 single-use gloves are used for nappy changing every year. And then, of course, there are the thousands of disposable nappies, the 5,000 nappy sacks, and the 37,500 nappy wipes used yearly (source: Early Years Alliance). When not disposed of properly, they can end up in landfill, or worse, waterways, oceans, and other natural areas causing harm to wildlife and marine life.
Greenhouse gas emissions and toxicity
When nursery school waste is not correctly disposed of, it can emit harmful greenhouse gases, such as methane and carbon dioxide, contributing to climate change. Also, some nursery school waste can contain toxic chemicals, such as lead or mercury, which can harm the environment and human health if disposed of improperly.

To minimise environmental impact, nursery schools should prioritise waste prevention, reduction, recycling, and proper disposal.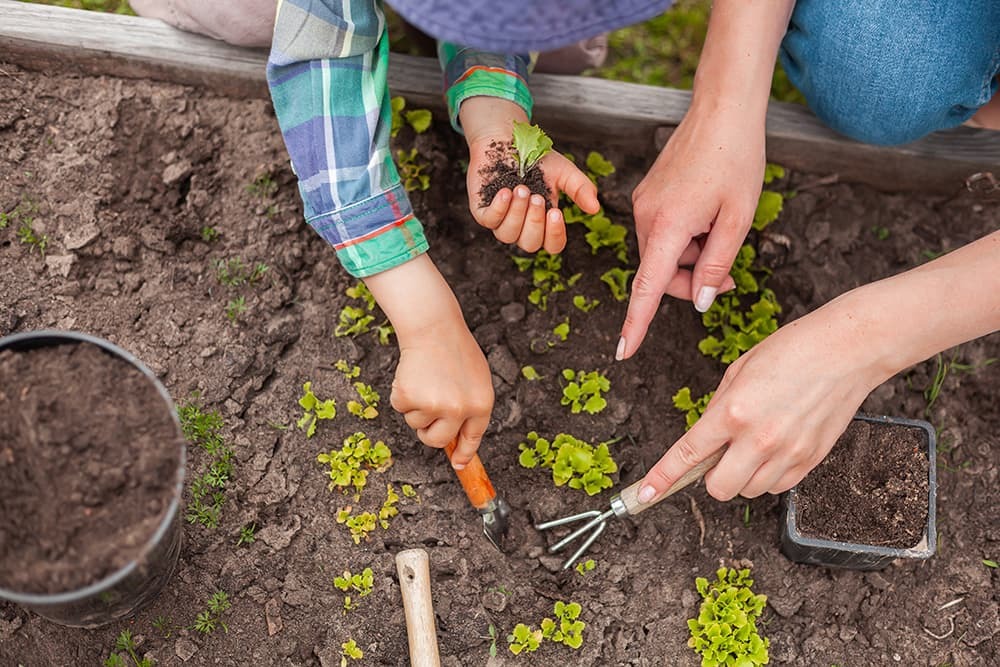 Reduce
Nurseries can reduce waste by choosing products with less packaging and replacing them less often. For example, when buying cereal, use refillable cereal stations instead of store-bought with all its packaging. Buying locally is great for the environment too. And try growing your own fruit and vegetables at the nursery or a nearby allotment - this can create a fun, hands-on experience, helping children become more familiar with food and nature.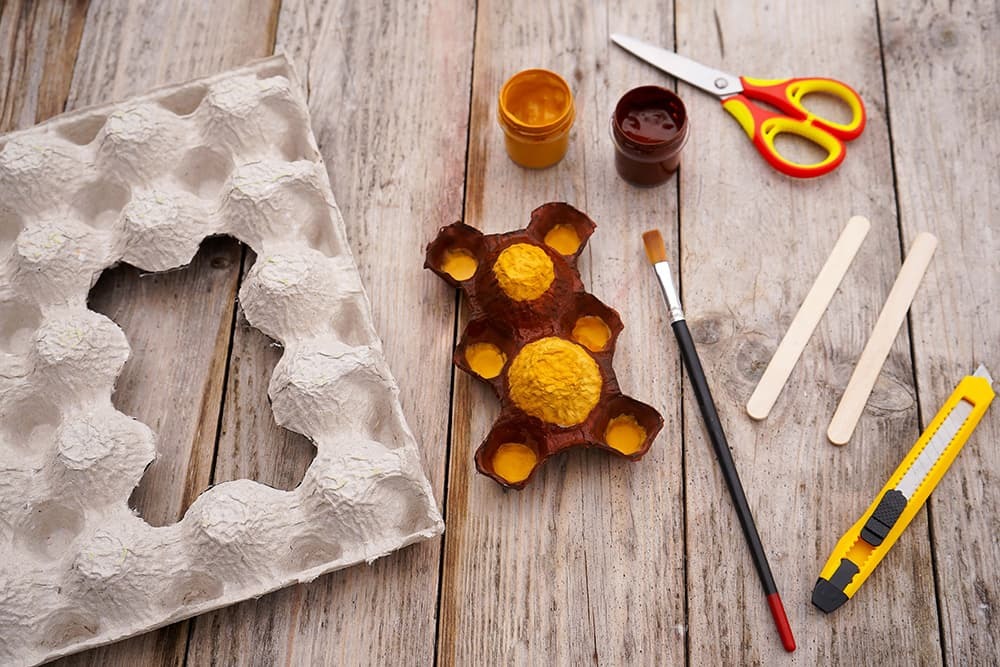 Reuse
Nurseries can look to use more reusable items. For example, use scrap paper, and retain suitable packaging for craft materials. In the office, always return ink cartridges for refilling. During lunch and snack time, use reusable plates and utensils. And consider reusable nappies that can be washed after each use.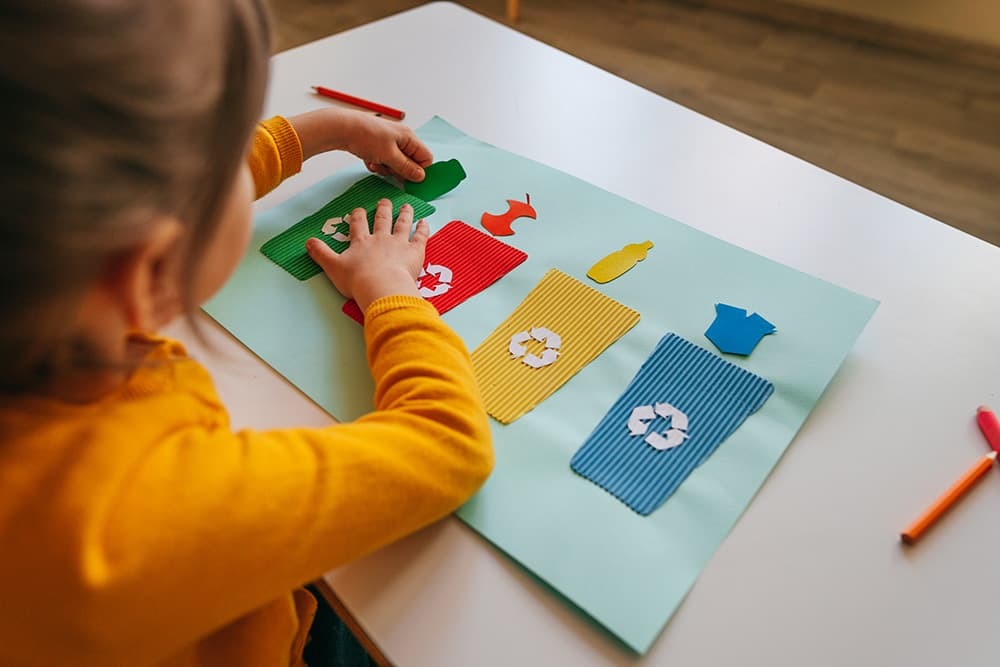 Recycle
When recycling, implement a three-bin system to manage your recycling efficiently. This way, you can recycle paper, plastic, and other materials that they use in the classroom. Recycle food waste by building a compost heap for fruit and veg peelings and grass cuttings - this is an excellent way to teach early years children about decomposition. The compost can even be used on school grounds.
Sustainable materials: When purchasing new equipment such as furniture, toys, and clothes, choose products made from environmentally friendly materials, such as organic cotton or bamboo.
Energy Efficiency: Install energy-efficient light bulbs and appliances and use natural lighting whenever possible.
Sustainable Transportation: Encourage parents to car share when dropping off and picking up children to reduce transportation-related emissions.
Outdoor Learning: Incorporate outdoor activities and nature-based learning into the curriculum, as it can help children develop an appreciation for nature and the environment.
Water Conservation: Install low-flow fixtures in sinks and toilets and encourage children to turn off taps when not in use.
Committing to becoming net zero
A nursery in Bath has implemented a zero-waste policy. They provide reusable containers for parents to take home leftover food and use washable bibs to reduce waste. They also compost their food waste and use the compost in their gardens.
Becoming eco-accredited
A nursery in Swindon encourages children to express their feelings about taking care of the world and are silver eco schools accredited. This programme sees children lead the way in making little changes that deliver significant environmental differences.

Developing a sustainability strategy
A nursery in Bristol has a strong commitment to sustainability. They use cloth nappies and washable wipes, which reduce waste and save money. They also have a composting system, a recycling program and use eco-friendly cleaning products.
Award-winning green activities
Our business was founded more than 120 years ago, but today, we use cutting-edge technology to deliver the most sustainable, stress-free total waste management service around. We've been supporting the circular economy and helping education providers minimise their waste for decades, and the commitments we make to you are backed by comprehensive, real-time reporting. Our friendly teams work with you to meet your needs, while our ultra-dependable collection service consistently maintains 97% service reliability.

Recycling schemes and innovations for nurseries
TerraCycle
TerraCycle offers recycling programmes for hard-to-recycle items such as baby food pouches, nappies, and plastic toys. Nurseries can sign up for these programmes and receive free shipping labels to send their waste to TerraCycle, who then repurposes or recycles it into new products.
Discover more >
Circular economy thinking
Nurseries can set up community composting schemes with their local council or community group, such as North Somerset. Community composting involves collecting food waste from the nursery and other local households, which is then turned into compost. The compost can be used in the nursery's garden or donated to other community projects. Social Farms & Gardens are a charity that provides a list of community composts near you.
Environmental Awareness
By reducing waste and recycling, nurseries can help children develop a deeper understanding and appreciation of the environment. This can help children develop a lifelong commitment to sustainable practices.
Cost savings
By reducing waste and recycling, nurseries can save money on waste disposal costs, purchasing supplies, and energy costs.
Community Engagement
By promoting sustainable practices, nurseries can engage with the local community and build positive relationships with parents, staff, and other stakeholders.
Health and Safety
Recycling and reducing waste can help create a healthier and safer environment for children, staff, and the wider community. This can help reduce the risk of accidents, injuries, and illnesses.
Educational Opportunities
Reducing waste and recycling can provide opportunities for children to learn about the value of resources, the importance of sustainability, and the impact of human activities on the environment.
Social Responsibility
By promoting sustainable practices, nurseries can demonstrate their commitment to social responsibility and contribute to a more sustainable future.