Operational consistency in waste management, with high levels of customer service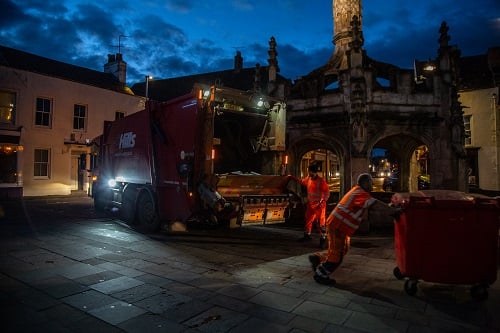 We consistently achieve a success rate of more than 95% over a year!
With all the challenges facing our drivers and back-office logistics team it is truly amazing that we can consistently achieve a success rate in excess of 95% over the course of a year.

Our operations team are the unsung heroes of our waste management business, often working non-standard hours in the early parts of the morning. And for our teams on the road, they have to navigate, often in the dark, around traffic queues during sometimes very poor weather conditions, including snow and ice, which can potentially be very hazardous for a fully laden truck.
Consistent Customer Service
Our 95% success rate is calculated by counting the number of scheduled collections we undertake, every day, for every customer, for 52 weeks of the year. From this figure, we identify the number of successful collections versus those which have failed, and this derives our rate of success.
How do we deliver high levels of service, consistently?
In order to run a large fleet of trucks every day, making thousands of collections using a range of specialist vehicles, we use a sophisticated scheduling system which organises each individual customers collection according to their unique needs.

This involves planning the most efficient route for each truck to take, incorporating an additional level of complexity by including the type of waste the customer needs collecting. This is important, because the type of waste to be collected determines which truck can collect the waste and this is, in part, how we start to segregate the waste prior to recycling or disposal.

Each route is then sent to the trucks on-board computer enabling the driver to follow the most efficient route.
Occasionally collections do go wrong
On occasions, it's not possible for us to collect the business waste scheduled for a given day. When it's our fault our Customer Support Team will get in touch with you to re-arrange a collection as soon as possible, which normally occurs within 24 hours of the original collection date. In these circumstances customers are not charged for the missed collection.


The reasons for a failure are numerous, and sometimes it may be due to issues outside of our control, such as when access to the bins is blocked or when the bins are empty. In cases like this we have to charge customers for their normal collection as we had made the visit.

Typical reasons why we may not collect the waste include vehicle breakdowns or when a vehicle is full - this may be due to our vehicle collecting more business waste than expected, which takes up space and weight in the truck


We don't just rely on our own data when analysing our performance. We also ask our customers to rate our services using a respectable independent review site. Verified customers can make an honest assessment of our services. We are pleased to say that our scores are very good!