Thumbs up to sustainable waste management with carbon-neutral gloves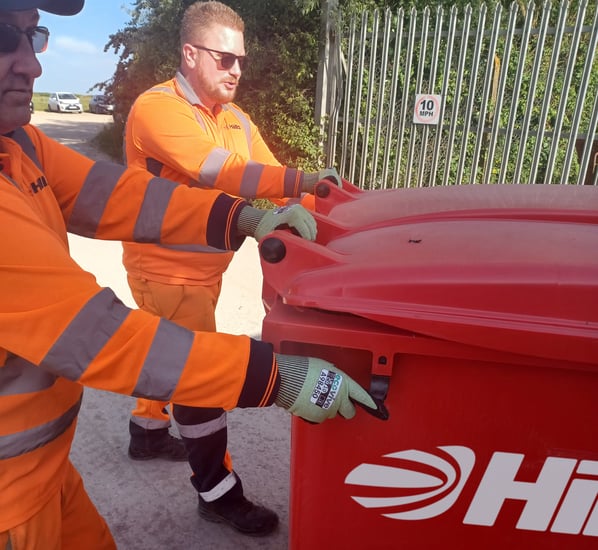 In today's world, sustainability and environmental responsibility have become important priorities for many businesses, small and large. This is mainly driven by global targets to address climate change and environmental challenges, as well as growing awareness of environmental issues and demand from consumers and stakeholders for businesses to operate in an ethical and responsible manner.
As a leading waste management company that helps our customers meet their net zero goals, Hills Waste Solutions also considers sustainability within our own operations. We have begun to take a magnifying glass to our supply chain, internal processes and equipment to see where we might have opportunities to save natural resources as much as possible.
Handling waste more sustainably
One step we have taken is the incorporation of the Ecovive range of carbon-neutral, sustainable PPE gloves, from Chelmsford Safety, for our employees. This collaboration not only demonstrates our commitment to environmental responsibility but also emphasises the importance of safety, cost-effectiveness, and comfort for our valued workforce.

Ecovive gloves are manufactured by Chelmsford Safety using recycled materials and eco-friendly processes. By using these gloves, Hills Waste Solutions will achieve an impressive waste reduction of over 68% compared to our previous gloves.

By collaborating with Chelmsford Safety and using the Ecovive gloves, we are able to reduce the overall environmental impact of our operations while continuing to protect the health and safety of our workforce.
The beginning of our sustainability journey
For Hills we want to make more changes to the materials we use, and this collaboration will be one of many as we begin to embrace our own journey towards net zero.

Our careful approach to selecting suppliers demonstrates our dedication to maintaining high standards and sustainability. Chelmsford Safety was chosen as the ideal supplier for hand protection solutions because of their innovative carbon-neutral certified Ecovive range, which perfectly aligns with our aims to improving recycling and sustainability.
By working with suppliers who share our values, we can contribute to a greener future for our customers, employees, and the environment as a whole.
Positive waste management for a world we want to live in
With our expertise in waste reduction and recycling, Hills Waste Solutions is well-equipped to assist organisations with their sustainability journey. Whether it's achieving zero-waste goals or contributing to a circular economy, we are dedicated to helping customers in the public and private sectors. We aim to re-use and recycle as much business waste as possible. Additionally, we are actively working to minimise our own environmental impact, recognising we have an important role to play in limiting the effects our activities have on local communities and society as a whole.
The introduction of Ecovive gloves is just one of the many ways that we are working to make a positive impact on the planet. As part of our commitment to the environment, safety, and the wellbeing of our employees, we call on other businesses to join us in embracing sustainability and working towards a greener future for all.
If you are looking for a waste management company that is committed to sustainability, then Hills Waste Solutions is an obvious choice. We offer a comprehensive range of services such as responsible waste disposal, mixed recycling services and commercial food waste recycling.
To find out more about how we are always finding innovative ways to help you reduce your environmental impact, contact our Customer Support team on 0808 145 4533 or fill out our contact form here.
Find out how we are taking responsibility for your waste here: https://www.hills-waste.co.uk/about-us/sustainability.