Food Waste Recycling with Bristol Grammar School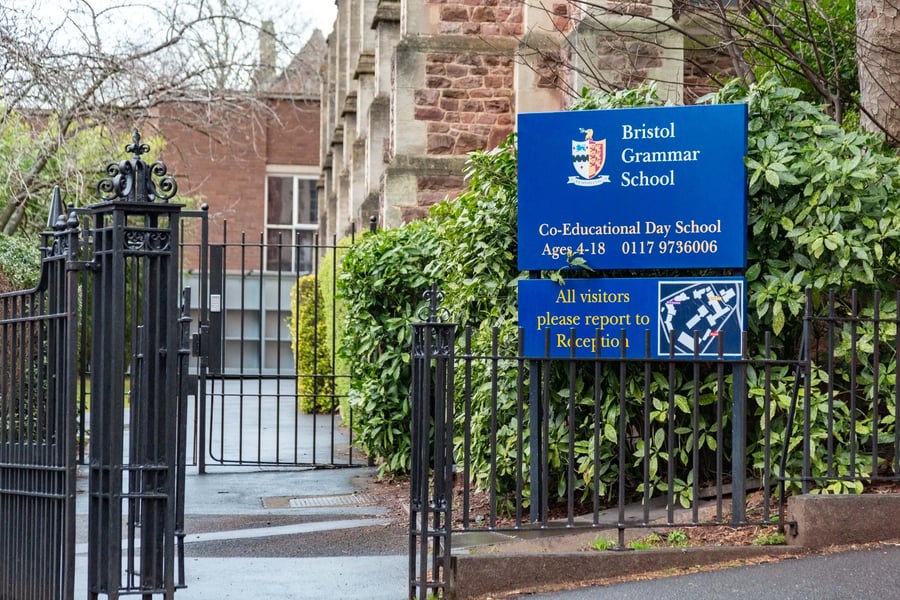 Turning leftover lasagne into renewable energy.
Bristol Grammar School is teaching pupils how to contribute to a more sustainable future – and one of its key lessons starts at lunchtime.
Since 2019, the prestigious, co-educational, Clifton school – which caters for children and young people aged four to 18 – has encouraged its pupils to scrape their lunchtime leftovers into dedicated food waste wheelie bins. These meal scraps are then collected three times a week and turned into renewable energy.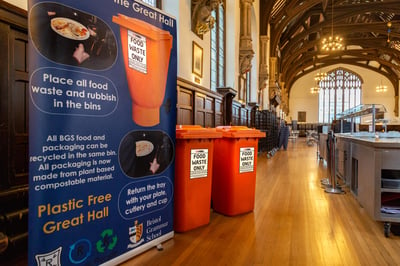 It's all part of a contract the school set up in July 2019 with West Country-based Hills Waste Solutions. As well as food, Hills work alongside the school's Facilities team to collect all their waste, including dry mixed and glass recycling, general waste, electrical recycling and even used cooking oil.
"Recycling and limiting the waste we send to landfill are both important to us – every classroom has separate bins for waste and recycling," says the school's Assistant Facilities Manager, Tom Matthews.
"We pride ourselves on trying to be an eco-conscious school. For example, we're currently switching the entire site to energy-efficient LED lighting.

It's a big job, but we're more than 90% there, and Hills collect the old bulbs as part of our electrical recycling,"

says Assistant Facilities Manager, Tom Matthews.
Helping the school meet its unique objectives
The school began working with Hills after encountering reliability issues with its previous, national supplier. While the school actively tries to support local businesses, Tom says it was the flexibility and quality of service that attracted the Facilities team to Hills: "We sometimes have access issues getting onto our site – we're in a busy, central location with lots going on around us. Hills have shown that they can adapt by utilising their small trucks, which means fewer missed collections.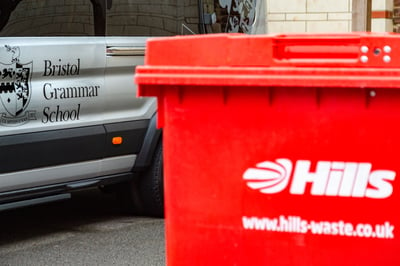 "It's also essential that we get the trucks in and out early in the morning before school starts – we have 200 staff and almost 1,300 young people here. There are waste collections here nearly every day, and most of the time we don't even notice the crews have been, which is a sign everything's working well.
"If we ever need help, we can pick up the phone to Hills, or use the dedicated portal, and know they'll try to sort something out. They're good at communicating with us proactively too. We have a strong relationship."
Neil Robbins, Sales Manager at Hills Waste Solutions, says he's delighted that by offering a tailored service to the school it helps create a more sustainable future for its pupils: "It's a pleasure to see Bristol Grammar School doing what it does best and leading by example. It's showing pupils how to manage waste responsibly, which is vital for our planet.
"We always work hand-in-hand with our commercial customers to help them reduce, recycle and recover all types of waste – even our general waste is turned into energy," says Neil Robbins, Sales Manager at Hills Waste Solutions.
"From our long experience in the industry, we know every organisation in our region is different, and we're proud of our flexible, reliable and fuss-free service."
For a skilled and sustainable waste management partner you can trust, and for more information on how Hills can help you manage public sector waste, visit our sector page.