New partnership with Wiltshire FA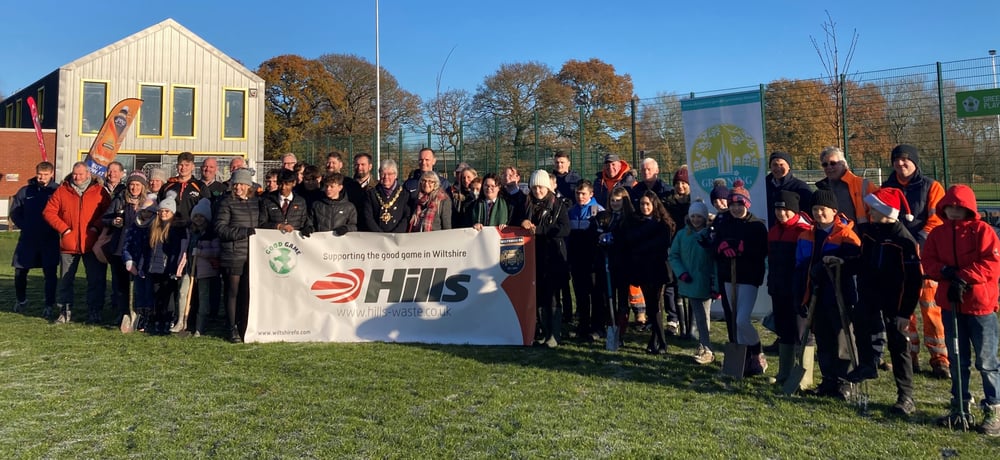 Raising the awareness of climate change through football in partnership with Wiltshire FA
Hills Waste Solutions is pleased to be working in partnership with Wiltshire FA to help launch a wider campaign to raise awareness about how football can help to address climate change.

To mark the start of the campaign Wiltshire FA held a tree planting event at Green Lane Playing Fields to celebrate Devizes Town Council's initiative, Greening Devizes and The Woodland Trust's, jubilee campaign, The Queen's Green Canopy.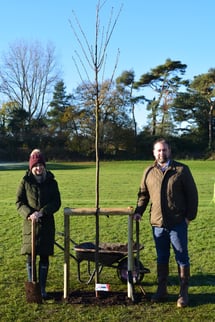 Neil Pollard, Divisional Director at Hills Waste Solutions said, "We are really excited to be supporting The Good Game in Wiltshire, sustainability is very important to us; it is embedded in what we do.
"We see this campaign as a great opportunity to engage people with lots of ideas about how they can help the planet.
"There is a desperate need to address climate change, using a partnership approach and the influence and reach of football we can all make small changes to help the environmental challenges we face."
Hills Waste Solutions is the headline sponsor of The Good Game. Offering positive waste management, the organisation offers their customers to achieve zero-waste by avoiding landfill with their reduce, reuse, recycle, recover approach and by turning waste into energy. Also conscious of their environmental footprint, they continually making improvements to their operations, such as reducing the emissions of their fleet.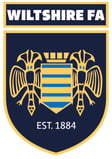 Oliver Selfe, CEO at Wiltshire FA said, "We are committed to making Green Lane Playing Fields an environmentally friendly facility and we are excited to be planting trees at our site to benefit our community, our wildlife and the climate, now and for the future.
"We are thrilled to also be launching our new partnership with Hills Waste Solutions at this event. Hills are experts in waste reduction and recycling. Their backing will support us, and our wider football community, on our sustainability journey to help address climate change."
The new trees were planted at Wiltshire FA's site, Green Lane Playing Fields, which is surrounded by countryside and stunning views. With 60 saplings coming from The Queen's Green Canopy initiative to mark the Platinum Jubilee and 15 more established trees from the Greening Devizes initiative, supporting the Council's aim to plant hundreds of trees and hectares of mini meadows throughout the town.
The event will welcome school children from All Cannings Primary School and Devizes High school, along with Devizes Town Mayor, Cllr Peter Corbett and councillors from the Greening Devizes group.
Community Engagement Manager, Amber Murray from Devizes Town Council commented, "Greening Devizes are proud to support Wiltshire Football Association on their journey to address climate change in football and create a sustainable facility.
Greening Devizes, a Devizes Town Councillor led initiative works with groups in the community to encourage greening, biodiversity and sustainability in Devizes. At the start of the year, the group set themselves the challenge of planting 100 new trees in the town – a target which has been hit!

We were enthusiastic at the prospect of working with Wiltshire FA, a club that is involved with and influences many members of our community. Greening Devizes have provided the tools, labour and machinery to contribute to phase one of Wiltshire FA's greening project – making a change for the people who use the site today and for years to come."
Last week was National Tree Week which highlighted the need to plant trees for woodland wildlife, to help combat climate change and to support the Woodland Trust's mission to get 50 million native trees in the ground over the next 5 years, to increase woodland cover from 13% to 19% to support the UK's ambition to reach net zero by 2050.
Acknowledging it is time to act to address climate change, Wiltshire FA's new campaign, The Good Game, aims to work with partners to signpost the football community to ideas they could adopt to be more green, sharing best practice and offering suggestions with the ambition to collectively make a difference in Wiltshire.
Oliver Selfe concludes, "I would like to thank all our partners who are involved in supporting this campaign. Our tree sponsors include, Hills Waste Solutions, iPRO Hydrate, Nanogreen Cleaning Services and Charlton Baker, all who share our desire to do what we can to save the planet.

We encourage anyone who wants to join us and support the campaign to get in touch. We have lots of opportunities that local organisations can get involved with and we hope our amazing football community get behind the campaign and make whatever changes they can to make a positive impact."

To find out more about the campaign visit Wiltshire FA here.