Efficient, dependable and comprehensive service
Whatever waste you need to manage, we can manage it for you. Our total waste management service lets you relax knowing that one supplier is in control of everything, reducing your admin time. We always work with you to make sure we're meeting your organisation's specific needs and can help drive down your costs based on real-world data and transparent online reporting. And we do what we say we will, collecting and delivering on time and taking care of any necessary documentation. Hills Waste Solutions is the only waste management team you need.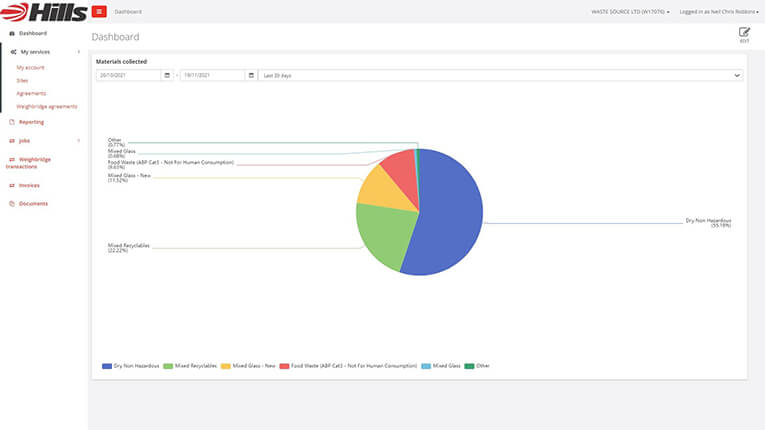 Real-time data at your fingertips
We believe in complete account transparency, so our industry-leading customer portal gives you all your data whenever you need it. Here you can run comprehensive, tailored reports tracking your waste management performance against agreed KPIs. You can access duty of care documentation and check when your waste containers were collected and at what cost. You can even discover which bins on your site are the fullest thanks to digital weighing of every bin. Our secure web portal, available 24/7, means you're always assured of legal compliance and a full audit trail.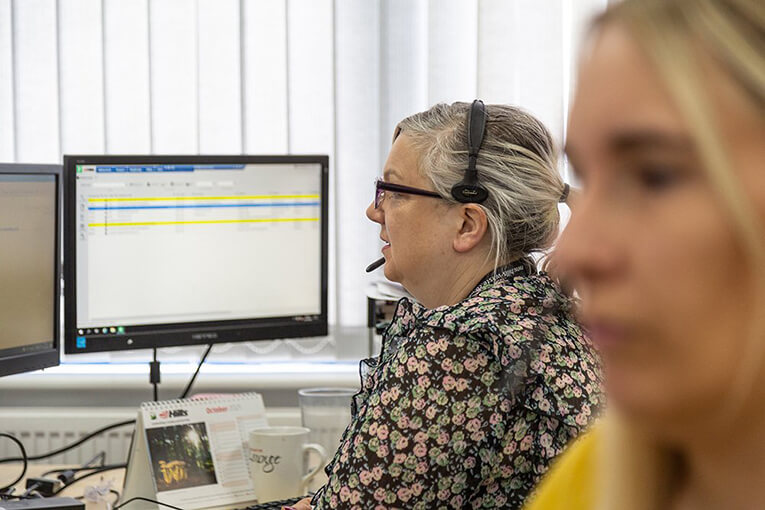 A single supplier handling all your waste
At Hills Waste Solutions, we provide total waste management. That means we work hand-in-hand with you and take responsibility for all your waste needs – whatever it is you're tackling. We can co-create bespoke plans for waste reduction, recycling and recovery and agree key performance indicators to achieve your objectives. Then we simply get on with making it happen. By working in partnership, we adapt quickly to your specific requirements, coordinate container deliveries to your sites and maintain our consistently reliable service.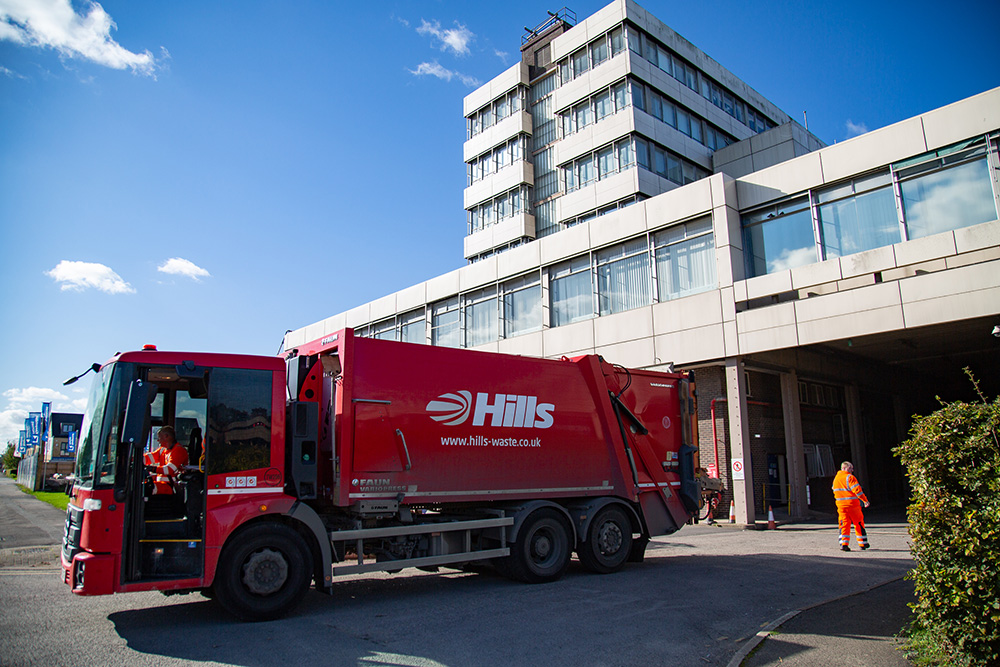 Competitive rates, quality service
Thanks to our vast experience working alongside companies like yours, we're experts in providing the value for money and efficiency you demand. We understand the balance between cost and quality and consistently provide outstanding value while ensuring full compliance, reliability and minimal environmental impact. Through our close working style, we're able to continually monitor your costs and make recommendations for effective savings. We also provide regular reporting against agreed targets, keeping you informed about your waste management costs.
Experts in handling all waste types for facilities managers
Want to know more?
We're experienced, local experts who understand the unique demands of waste management across a variety of different sites. Contact our friendly professional team today to find out how we can help you meet your waste disposal and recycling challenges.
GET IN TOUCH
CALL US ON 0808 145 4533
Hills are taking food waste and using it to create organic fertiliser
January 2022
To highlight the connection between food waste and fertiliser, Hills Waste Solutions has boosted its...
Continue reading
Out now – edition 49 of our company magazine
December 2021
This issue of the Hills Group's popular magazine, intouch, is available to read here.
Continue reading
Coronavirus Business Continuity Statement
July 2021
This update follows the Prime Minister's announcement of Step 4 of the Government's roadmap to ease ...
Continue reading
View all